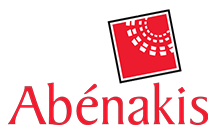 Press release
For immediate release
Les Abénakis d'Odanak, un voyage archéologique
Odanak, December 4, 2017 – The Abenaki Museum is pleased to present its first ever public archaeological publication entitled Les Abénakis d'Odanak: un voyage archéologique, made possible through an $81,000 grant from Canadian Heritage. This book is a synthesis of the archaeological excavation project Fort d'Odanak: the past revisited.
th century, where the community of Odanak is currently located: the Saint-François-de-Sales mission. This quest, which ended in 2014, collected new information on Abenaki history and lifestyles. Most importantly, it provided an opportunity for a group of nine young people from this First Nation to actively participate in the excavations and to discover, on the very places where their ancestors lived, fragments of their past.
This publication tells the story of the journey through time that archaeologists Geneviève Treyvaud and Michel Plourde and their young apprentices made and the results of their efforts.
Les Abénakis d'Odanak, un voyage archéologique is available at the museum boutique, in French and English versions.
The authors
Geneviève Treyvaud is also co-director of the École de fouilles archéologiques at Université de Montréal and consultant for First Nations. She is particularly interested in the contact period and the impact of European colonization on First Nations and their environment. She holds a master's and doctorate degrees in archaeology and specializes in the exploitation and manufacture of metal archaeological furniture. She is studying the characterization and cross-fertilization of metalworking among First Nations in northeastern America. Among other things, it contributes to the research and development of the use of computed tomography for the study of ancient materials.
Archaeologist and prehistoric specialist in Quebec, Michel Plourde works as an archaeological consultant for various public, parapublic and private organizations. He has also been a lecturer in the Department of Historical Sciences at Université Laval since 2007, where he teaches archaeological excavation techniques and ethical issues to undergraduate students. Michel Plourde holds a master's and doctorate from the Université de Montréal and has studied, among other things, the use of ceramics among Amerindian groups living in the St. Lawrence Lowlands and in James Bay. His writings have focused on the potential location of Stadacona, seal hunting techniques among the Amerindians of southern Quebec and the contribution of small sites to understanding the economy of nomadic groups.
Le Musée des Abénakis
Since 1965, the Museum has been promoting the cultural development of the Abenaki Nation and the conservation of its thousand-year-old traditions. Having welcomed several thousand visitors since its opening, the Musée des Abénakis is a dynamic place of diffusion and educational and cultural animation.
The Musée des Abénakis is subsidized by the Ministère de la Culture et des Communications du Québec and the Conseil des Abénakis d'Odanak.
– 30 –
Pour informations :
Vicky Desfossés-Bégin, agente médiation et communications
Musée des Abénakis,
108, rue Waban-Aki, Odanak, JOG 1H0
(450) 568-2600